This marmalade pudding cake was screaming for my attention ever since I got
Nigella
's
Kitchen
in my (ever growing) 'Kitchen Library'. But somehow I never got around to make it. Although every time I used to browse thought the book (mostly at bed time....yeah I m one of those weirdos who read cookery/bakery books/ magazines at bedtime....but be warned all of
Nigella
's books are pretty much on the heavier side to hold while trying to read on bed) I ended up salivating while looking at the picture and the recipe.
Cook Like A Star
gave me perfect excuse to try this one. I also did the baked egg custard to pair with this ( as suggested by
Nigella
) but that's for next post :).
Come take a closer look :)
It's one of the most gloriously tender cake (see Nigella's word-spinning is rubbing off on me) with a light texture like steamed sponge and taste wise, I must say, it ticked all the right boxes for me. It is tangy, not bitter, it has delicious caramalised sweetness owing to the use of light brown sugar but at the same time it's not overly tooth achingly sweet. Surely it's on my 'Will Bake Again' list.
Marmalade Pudding Cake
Ingredients:
250

grams

soft

unsalted butter

(plus some for greasing)

75

grams

caster sugar

75

grams

light brown muscovado sugar

225

grams

marmalade

(75g of which for the glaze)

225

grams

plain flour

½

teaspoon

bicarbonate of soda

1

teaspoon

baking powder

4

large

eggs

zest and juice of

1

orange

( reserve juice of ½ orange for glaze)
Method:
Preheat the oven to 180°C and butter an 8inch square ovenproof dish ( i made it in my 8 inch round cake tin). Put the 75g marmalade and juice of ½ orange into a small pan and set aside to make a glaze later.
Put all the other ingredients for the pudding batter into a food processor, process them and then pour and scrape the batter into the buttered dish, smoothing the top. If you're not using a processor, cream the butter and both sugars by hand or in a freestanding mixer, beat in the marmalade followed by the dry ingredients, then the eggs and finally the orange zest and juice.
Put in the oven and cook for about 40 minutes – though give a first check after ½ hour – by which time the sponge mixture will have risen and a cake tester will come out cleanish. Remove from the oven and leave in the dish.
Warm the glaze mixture in the pan until melted together, then paint the top of the sponge, letting the chunks or slivers of peel be your sole, unglinting decoration on top of the mutely gleaming pudding-cake.
Use a large spoon or cake slice (or both) to serve, and put a jug of custard or cream on the table to eat with.
This post is linked to
Cook Like A Star
, organised by Zoe @
Bake For Happy Kids
and co-hosted by Joyce@
Kitcen Flavours
and me@
Simple-Baking
. If you want to join in the event, simply cook or bake one of Nigella Lawson's recipe, from her website or books, and link with us for the whole month of August 2013. For more details please visit
here
.
This post is also linked to the event
Little Thumbs Up
hosted by Yen@
Eat Your Heart Out
and organised by Zoe@
Bake For Happy Kids
and Doreen @
My Little Favourite DIY
.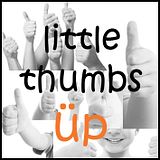 Happy Baking!!