It has been raining incessantly from the past one month or so, and it's becoming increasingly difficult to keep the children busy indoors. Particularly when I m having my niece and nephew visiting from the USA, ages 9 and 6 respectively, as their summer vacations are on, and combined with my own 9 and 2 1/2 year old, its complete mayhem at our household. To channelize their bursting energy and sky rocketing enthusiasm for baking, we decided to make some cupcakes for tea on a wet rainy afternoon. We didn't do the icing part as by the time the whole process was finished, the kids had no patience for making the icing and then frosting the cupcakes. They were eager to start on the cupcakes as soon as the oven went 'bing'. We had absolutely fab time making and then demolishing these cuppies. The kids were satiated.......for 5 minutes or so, and immediately wanted to dive into the next baking project on their list. You see, in their minds all of them are accomplished bakers already.....oh well who m I to burst their bubble. But that's a story for another day :)
Nigella's Chocolate Cupcakes
Ingredients:
110 grams unsealed butter (I used Amul butter)
200 grams dark muscavado sugar
1 egg, beaten
1/2 teaspoon vanilla extract
50 grams dark chocolate, melted and cooled
100 grams all purpose flour
1/2 teaspoon baking soda
125 ml boiling water
Method:
Preheat the oven to 180 degree Celsius. Line a muffin tin or cupcake tin with paper liners.
Cream the butter and sugar together, either with a wooden spoon or with an electric hand held mixer. Add egg and vanilla and beat well. Next, fold in the melted chocolate, taking care to blend well but being careful not to overheat. Then gently add the flour to which you have already added the baking soda, alternately spoon by spoon with the boiling water until you have a smooth and fairly liquid batter. Fill the 12 muffin paper cases. Bake for 30 minutes, remove from the tin and cool on a rack.
This post is linked to
Cook Like A Star
, organised by Zoe @
Bake For Happy Kids
, Joyce@
Kitcen Flavours
and me@
Simple-Baking
. If you want to join in the event, simply cook or bake one of Nigella Lawson's recipe, from her website or books, and link with us for the whole month of August 2013. For more details please visit
here
.
This post is also linked to the event
Little Thumbs Up
hosted by Yen@
Eat Your Heart Out
and organised by Zoe@
Bake For Happy Kids
and Doreen @
My Little Favourite DIY
.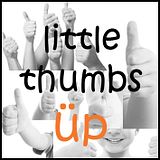 Happy Baking!!